Last year when I was in Paris, I found the most wonderful ring at
Colette
. It was a beautiful little snail conjured of shell and gold and, as I discovered, made by
Delfina Delettrez
. Ms. Delettrez, all of 21 years old, has already launched her own jewelry business. Her luxurious pieces embody a lovely yet simultaneously humorous and macabre sensibility.
Delfina Delettrez in her jewelry.
Glamour and jewelry-making course through Delettrez's veins. Not only is she a member of the Fendi family, but Delfina learned her craft from her father, Bernard Delettrez, a famous French jeweler. On top of all that, she has the support of her stylish mother Silvia Fendi as well as the inimitable Karl Lagerfeld, who designed her fabulous crescent moon and stars logo(originally created for her father 30 years before).
Delfina Delettrez in her jewelry.
Delfina Delettrez Boutique, 67 Via del Governo Vecchio, Rome, Italy.
Delettrez has a jewel box boutique in Rome, just steps from the Piazza Navona, where she sells her line. In a nod to the space's former incarnation as a pharmacy, Delfina added hints of absinthe and penicillin green to the decor.
To showcase her fourth collection, "Garden of Delight," Delettrez collaborated with the storied Parisian shop
Deyrolle
(which, happily, has rebounded from last year's devastating fire). Deyrolle's taxidermy animals were adorned in Delettrez's exquisite and intricately crafted pieces, and they provided a perfect backdrop for the recurring animal motif. Much of Delettrez's jewelry also speaks to the dichotomy between life and death.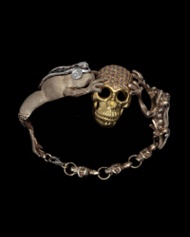 "Delfinasia," a film written and directed by Delettrez's best friend Asia Argento, captures the odyssey of Delfina's pregnancy, as well as the origins of her jewelry line. Delettrez exorcised her fears of death and insects by fashioning beautiful jewels in their likeness. And so was born the jewelry of Delfina Delettrez and my wonderful little snail ring...
Unless otherwise note, all images by Delfina Delettrez.